My Team
Our team of professionals work hard to deliver high quality plans with a high degree of deail, along with exceptional customer service. Read more about our team below:
---
Todd R Zaeske
Financial Planning Consultant
Todd joined Northwestern Mutual in January of 2017 with 25+ years of financial industry experience. As a Financial Planning Business Consultant (FPBC), Todd is responsible for creating financial plans and providing financial planning guidance, investment case analysis, and annual review materials. He also consults with advisors on finanical planning topics, product options, suitability, practice management, and investment concepts and strategies.
Before joining NM, Todd most notably worked as a financial advisor for Merrill Lynch, Prudential, and JPMorgan Chase. While at Chase, Todd led the Wisconsin market in quality Financial Plans delivered and was ranked #2 in the Wisconsin and Chicagoland markets. As an Advisor, Todd was an early adopter of provuding planning to his clients and he successfully used it to strengthen relationships with his clients. Todd started his financial career as a bank teller and has substantial experience in all three of the main areas of finance: banking, insurance, and investments.
Todd is a graduate of the University of Wisconsin - Milwaukee with a degree in Marketing and holds a Series 7, 63, and 65, and Life and Health licenses.
Todd has three boys, Ian (22), Christopher (19), and Joshua (15). Ian recently deployed with his Wisconsin Army National Guard unit and will finish his Criminal Justice degree upon his return. Christopher is seeking a degree in Video Game Design starting in the fall of 2018. Joshua starts his sophomore year of high school this fall. In his free-time, Todd enjoys reading, biking, hiking, his family's lake home, and working with animals.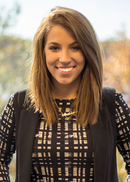 Madeleine R Smith
Madeleine learned the importance of a solid financial plan first hand at a young age. After her mother lost her battle with cancer when Madeleine was 22, she knew that her father and brother would be taken care of because of her mother's dilligence in planning for the family. This plan included the funding of her education at Missouri State University, where she received a Bachelor's of Science in Public Relations.
Shortly after graduating college, Madeleine interviewed at Northwestern Mutual - St. Louis - where she learned their mission is to protect families who go through situations similar to hers. She began her career with Northwestern Mutual in the summer of 2017, and joined Matt's team in June of 2018. As an Agent Assistant, she takes pride in being a part of planning for individuals, families, and businesses, and being there for them through the best and worst times of their lives.
When she's not in the office, you might find her wining and dining at her favorite local restaurants or walking her 2 year old dog, Ranger.